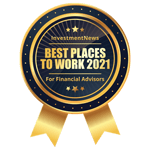 We believe the quality of our business is in direct proportion to the quality of our team of associates. We value their individual talents and support their continued professional growth.
McKinley Carter Wealth Services and our affiliated organizations are always seeking friendly, experienced, positive, competent, and ethical professionals to complement existing team members in all of our office locations. We currently have offices in the following locations/communities:
---
Current Openings
McKinley Carter is a fast-growing wealth management firm that provides financial planning, wealth management, retirement plan services, and trust services to individuals, businesses, and nonprofits. Having been named by Investment News as one of the nation's "Best Places to Work for Financial Advisors" and recognized as a Five Diamond Employer by the WV Chamber of Commerce, MCWS has built a positive and healthy corporate culture where dedicated professionals can thrive. Moreover, the firm is comprised of a close-knit team of people who care deeply about their colleagues, appreciate the contributions of others, and recognize the value of a good sense of humor.


Financial Services Administrative / Client Coordinator (Gaithersburg, MD)
As am Administrative / Client Coordinator you never stop thinking about our clients. You believe challenges are not unmovable obstacles, but rather are achievable opportunities. You will be a source of accountability for providing an outstanding client experience. You will be the champion for all service initiatives in the area of client management.
As the successful Administrative / Client Coordinator, you will assist a team of Financial Strategists to help maintain their client relationships. In addition, we will rely on your creativity and enthusiasm by performing the following duties:

Primary Responsibilities:

Building trust with MCWS team members and competence within the role by:
Acknowledging team member strengths, understanding firm roles/responsibilities, and firm goals/objectives.
Effectively and efficiently communicating and collaborating in a way that contributes to positive teamwork.
Identifying, helping resolve, and/or designing the improvement of MCWS workflow processes, practices, etc.
Working ethically and productively while maintaining proper firm and industry compliance.
Building trust with each MCWS client/prospect by:
Learning about each client/prospect's personal concerns and objectives.
Scheduling and participating in client/prospect meetings as appropriate.
Documenting assertions, interpretations, and plans of action relating to client/prospect's financial situation.
Assuring that requests from client/prospect are handled on a timely basis.
Coordinating and monitoring MCWS staff compliance with all service-related standard practices.
Helping mobilize clients/prospects to take actions to improve their financial situation.

Contributing appropriately to all sales and client service activities with internal and external partners.
Complying with all applicable firm and department/division standard practices, policies, and procedures.
Continually increasing professional knowledge, skills, and competence within the role.

Other duties and/or projects as assigned.

Qualifications:
Excellent interpersonal and organizational skills with the ability to deal with clients and employees of all backgrounds in fast-paced, high performing work environment.
Client service and/or administrative experience, preferably in the financial services industry and/or a service-related industry, or documented aptitude to provide such service.
Communication and administrative skills needed (i) to understand and appropriately document assertions and interpretations relating to client/prospect's financial situation, and (ii) to coordinate implementation of financial
strategies.
Proficiency in Microsoft Word and Excel are expected. A candidate should also have the capacity to quickly learn
advanced CRM, portfolio management systems, and equivalent technology systems.
Experience with content creation is desirable including blogging.
FPQP™ or Series 65 designation helpful but not necessary / or desire to obtain said designations.

MCWS is flexible on the position status (i.e. full-time or part-time) and is more committed to finding the right person for the job. MCWS also offers a flexible work schedule combining office & remote work possibilities. Compensation is commensurate with experience. The firm offers an excellent benefits package for employees working more than 30 hours/week, including health, dental, vision, and life insurance, 401(k) match, paid holidays, and a generous PTO policy.

To Apply:

To apply for the Client Coordinator position, please click here.

Equal Opportunity Employer


---
Senior Accountant (Wheeling, WV)

Position Qualifications:
Bachelor's degree in Accounting/Finance or equivalent by way of experience required in applicable areas of study.
Strong attention to detail and accuracy.
Excellent interpersonal skills with the ability to engage internal and external clients in a fast paced, professional manner.
Strong record of preparing financial reports, performing account reconciliations, maintaining the general ledger, prepare property, sales & use tax returns, and assisting with audit preparations.
Excellent analytical skills with a thorough knowledge of accounting principles and the ability to analyze financial reports and forecast utilizing GAAP.
Proficiency in Accounting software, Microsoft Office 365 Suite, and the capacity to quickly learn and leverage CRM, or equivalent technology systems.
Primary Responsibilities:
Verify, allocate, post, and reconcile accounts payable and receivable
Produce error-free accounting reports and present their results
Analyze financial information and summarize financial status
Spot errors and suggest ways to improve efficiency and spending
Provide technical support and advice to Controller
Review and recommend modifications to accounting systems and procedures
Participate in financial standards setting and in forecast process
Provide input into department's goal setting process
Prepare financial statements and produce budget according to schedule
Contribute to internal and external audits to ensure compliance
Plan, assign and review staff's work
Support month-end and year-end close process
Develop and document business processes and accounting policies to maintain and strengthen internal controls
Ensure compliance with GAAP requirements
Perform other duties as required or assigned
To Apply:

To apply for the Accountant position, please click here.
Equal Opportunity Employer

---
Experienced Advisors: If you currently have at least 8 or more years of experience as an advisor, please contact us to discuss our solutions for supporting our advisors. There are immediate employment opportunities at all of our office locations.
College Students: From time-to-time and depending upon needs we provide paid or unpaid student internships as well as shadowing opportunities which can lead to future employment with
our firm. We generally seek college students who are going into their junior or senior years and who have excelled in their academic life by way of GPA, honors/awards, etc. in such disciplines as, but not limited
to, economics, finance, law, accounting, management and technology.
If you have an interest in joining our successful team, please download and complete the employment application provided and submit it along with a cover letter, resume and list of references to humanresources@mc-ws.com. You may also fax your applicant information to 304-230-2401.